Watchung Earns Prestigious Sustainable Jersey Certification
Watchung, NJ – Sustainable Jersey representatives announced that The Borough of Watchung has met the rigorous requirements to achieve Sustainable Jersey certification. Watchung is one of 52 municipalities that have attained certification in 2021 and was honored at the Sustainable Jersey Annual Luncheon on November 16, 2021 in Atlantic City at the New Jersey State League of Municipalities Conference. Sustainable Jersey's participating communities represent over 81 percent of the state's municipalities.
Watchung's Mayor Keith Balla stated, "It is a tremendous honor to represent Watchung in receiving an award for the many joint efforts of our Borough, residents and businesses to make New Jersey environmentally sustainable and improve and maintain the quality of life for all."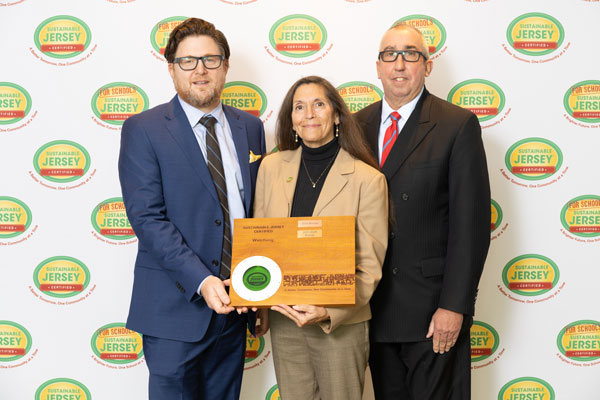 Council President Wendy Robinson and Mayor Keith S. Balla receiving Sustainable Jersey certification plaque from Randal Solomon, Executive Director, Sustainable Jersey.
Photo courtesy of Sustainable Jersey
To become Sustainable Jersey certified, Watchung submitted documentation to show it had completed a balance of the required sustainability actions, meeting a minimum of 150 action points. In addition to reaching 150 points, each certified community had to create a green team and select at least two out of thirteen priority action options. Council President and Green Team Liaison, Wendy Robinson, noted that Watchung actually achieved 200 points and accomplished two of the thirteen priority actions by completing the Energy Tracking and Management, and Prescription Drug Safety and Disposal actions. She gives credit to the hard work of the Green Team Chair, Charlie Neiss and the rest of the Green Team members. "They really stepped up to get us across the finish line in a shortened time frame. And we couldn't have done it without the significant contributions of our Chief Financial Officer and Green Team member, Bill Hance," she remarked.
"The certified towns exemplify the commitment we need to accelerate the transition to a sustainable world. As New Jersey faces issues such as the climate crisis, a growing equity divide and environmental pollution, it is essential that we support municipalities as they do the hard work to meet these challenges at the local level," said Randall Solomon, executive director of Sustainable Jersey. "These communities are helping New Jersey build back better after the COVID-19 pandemic and it is our honor to work with them as we strive for a better tomorrow!" Certified towns excelled in areas such as improving energy efficiency, health and wellness, reducing waste, sustaining local economies, protecting natural resources, and advancing the arts.
Watchung is a borough at the eastern end of Somerset County, comprising primarily suburban neighborhoods, with a robust retail district located along US Route 22. Most of the residential parts of the town are situated in wooded areas between the first and second Watchung mountains. The name for Watchung, along with the surrounding mountains, comes from the Lenni-Lenape people who called the area Wach Unk, which roughly translates to High Hills. The town was incorporated in 1926 and is home to just over 6,000 people and a fair number of deer.
Website: www.watchungnj.gov
Facebook: www.facebook.com/WatchungNJ
Instagram: www.instagram.com/watchungnj/
About Sustainable Jersey
Sustainable Jersey provides tools, training and financial incentives to support communities as they pursue sustainability programs. As New Jersey faces issues such as the climate crisis, a growing equity divide, and environmental pollution, municipalities want to be a part of the solution to these challenges. Sustainable Jersey participants (municipalities and schools) have successfully implemented and documented over 20,826 sustainability actions. Sustainable Jersey has provided over $6.7 million in grants to municipalities, school districts, and schools for community-based projects that create healthy and sustainable communities in New Jersey. Sustainable Jersey is administered by The Sustainability Institute at The College of New Jersey.
Website: www.SustainableJersey.com; www.SustainableJerseySchools.com
Twitter: https://twitter.com/sj_program; https://twitter.com/sj_schools
Facebook: www.facebook.com/SustainableJersey
Instagram: https://instagram.com/sustainable_jersey/
Linked In: https://www.linkedin.com/company/sustainable-jersey